Odd Fellows Cemetery
The cemetery, located on Willow Street in Chincoteague, lies on the west side of the street. Tombstones and other objects are listed below.

Well over 2/3 of the of the gravesites in this cemetery are unidentified. Some were originally marked with a metal plate on a stake. But many of the name plates are now missing and some markers have obviously been moved. Thus it is questionable if any of the metal markers are on the correct gravesites. From the placement of the crypts on the map, it also appears that there are other gravesites that are not even indicated on the map. If you have any additional information about the graves in this cemetery, please contact us at the link at the bottom of this page. The longer we wait, the harder it will be to identify gravesites correctly.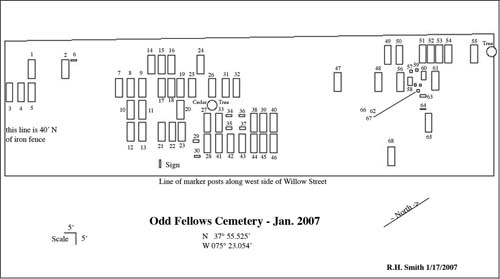 | | | | |
| --- | --- | --- | --- |
| 1 | Joseph Logan | 50 | unmarked crypt |
| 2 | Robert Ewell | 51 | Edward Taylor plaque |
| 3 | Eva Mae Parks (metal marker) | 52 | Mabel Marshall (metal marker) |
| 4 | unmarked crypt | 53 | Clifton Taylor (metal marker) |
| 5 | unmarked crypt | 54 | Estelle Taylor (metal marker) |
| 6 | Alice Ewell (metal marker, no crypt) | 55 | unmarked crypt |
| 7 | unmarked crypt | 56 | unmarked crypt |
| 8 | Lyda Glenn (metal marker) | 57 | "M. B." square 6"x6" pillar |
| 9 | Marthony Ewell (metal marker) | 58 | child's crypt |
| 10 | unmarked crypt | 59 | "K. L." square 6"x6" pillar |
| 11 | unmarked crypt | 60 | 1921 child's crypt |
| 12 | unmarked crypt | 61 | almost buried crypt |
| 13 | unmarked crypt | 62 | square 6"x6" pillar, no markings |
| 14 | unmarked crypt | 63 | Lucy Hussey tombstone-no crypt |
| 15 | unmarked crypt | 64 | "L. H." footer |
| 16 | unmarked crypt | 65 | unmarked crypt |
| 17 | Lula Blake tombstone | 66 | square 6"x6" pillar, no markings |
| 18 | Samuel Blake-plaque | 67 | square 6"x6" pillar, no markings |
| 19 | Elizabeth Blake tombstone & "E.B." footer | 68 | unmarked crypt |
| 20 | 1922 on crypt | 69 | remaining are unused numbers |
| 21 | unmarked crypt | 70 | |
| 22 | unmarked crypt | 71 | |
| 23 | Maude Crippin tombstone & "Mother" footer | 72 | |
| 24 | unmarked crypt | 73 | |
| 25 | unmarked crypt | 74 | |
| 26 | unmarked crypt | 75 | |
| 27 | unmarked crypt | 76 | |
| 28 | unmarked crypt | 77 | |
| 29 | Leven Jackson tombstone-no crypt | 78 | |
| 30 | "L. J." footer | 79 | |
| 31 | unmarked crypt | 80 | |
| 32 | unmarked crypt | 81 | |
| 33 | 1924 on crypt | 82 | |
| 34 | Okey Blake tombstone-no crypt | 83 | |
| 35 | "O. B." footer | 84 | |
| 36 | Martha Downing tombstone-no crypt | 85 | |
| 37 | "M. A. D." footer | 86 | |
| 38 | unmarked crypt | 87 | |
| 39 | unmarked crypt | 88 | |
| 40 | unmarked crypt | 89 | |
| 41 | unmarked crypt | 90 | |
| 42 | unmarked crypt | 91 | |
| 43 | unmarked crypt | 92 | |
| 44 | unmarked crypt | 93 | |
| 45 | unmarked crypt | 94 | |
| 46 | unmarked crypt | 95 | |
| 47 | unmarked crypt | 96 | |
| 48 | badly deteriorated crypt | 97 | |
| 49 | unmarked crypt | 98 | |