In June of 2010, a long-buried formal entrance to Odd Fellows Cemetery on Chincoteague Island was unearthed. In a follow-up to a ground penetrating radar study of the cemetery in May, a careful excavation was carried out to investigate a suspicious, shallow echo found at the front of the cemetery. What emerged was a five by nine foot, low rectangular border of handmade cement blocks. Imbedded in the corners were the remnants of iron pipes, likely used to support a canopy over the entrance or possibly a handrail for the walkway. Evidence of the presence of a gate was also found.

The discoverer was Rick Smith, a professor at McDaniel College in Maryland. Dr. Smith has long studied the history of the Island African American community and is the author of "Tracks in the Sand" articles that appear in the Beacon.

Odd Fellows is one of two African American cemeteries on the Island. It was established on land purchased in 1907 by the Queen Lodge #5642 of the Grand United Order of Odd Fellows, an African American fraternal organization active on the Island in the early 1900's. The lodge disbanded in 1924.

Like all the twenty some other cemeteries on the Island, Odd Fellows is a traditional southern folk cemetery. All of its graves are oriented in the standard east to west direction. Prominently placed in the middle is a large, stately red cedar tree. The recent discovery was found close by, at the front of the cemetery right along the edge of Willow St. From all appearances, the low block border and accompanying metal structure comprised a "lichgate," the formal entrance to the graveyard. Lichgates are found in many folk cemeteries, even in ones like Odd Fellows that are not surrounded by a fence. Funeral processions, upon arriving at the cemetery, would pause at the lichgate. There the minister officiating the ceremony would often invoke a prayer before proceeding to the gravesite.

After consultation with descendants, it was decided to restore the foundation of Odd Fellows' lichgate as a significant piece of the African American history of Chincoteague.
The initial discovery.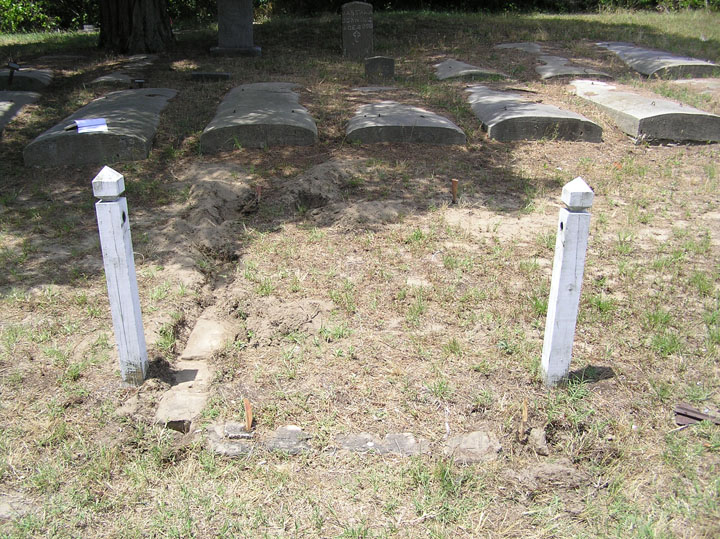 Completely unearthed.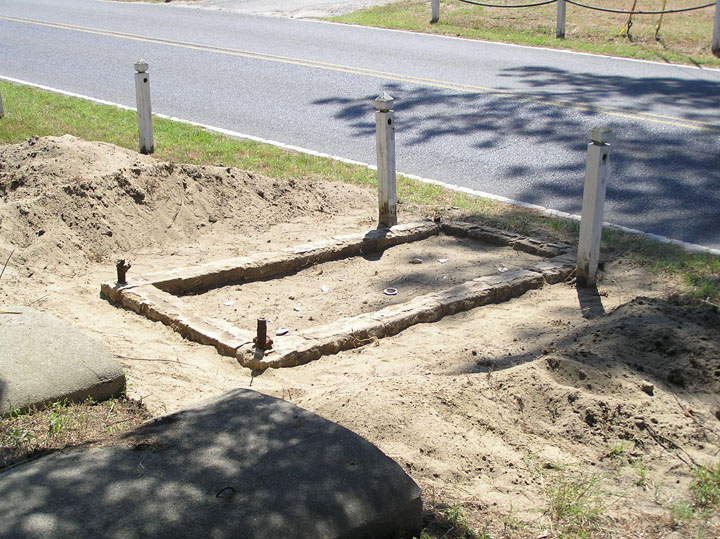 After site grading.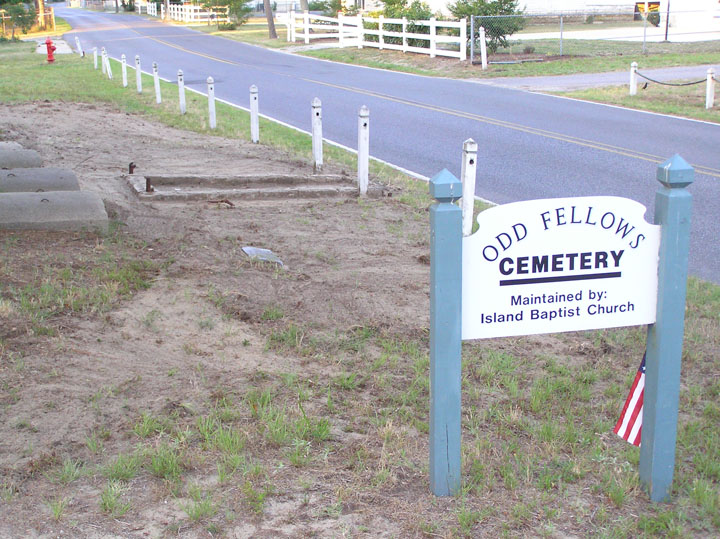 The formal entrance today (October, 2011)