Christ Union Baptist Church Cemetery
The cemetery, located on Willow Street in Chincoteague, is almost completely wooded and the center section presently is overgrown. Tombstones and other objects are listed below.
If you have additional information about the graves in this cemetery, please contact us at the link at the bottom of this page.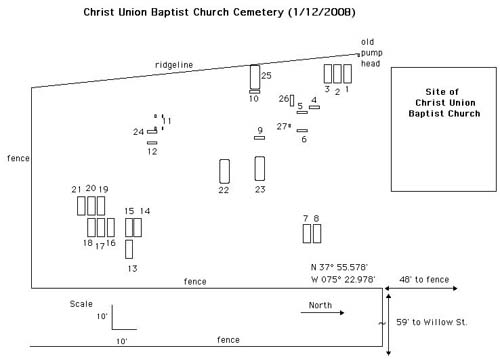 Map made on 1/7/2007, modified 1/12/2008 (by Rick Smith).
| | |
| --- | --- |
| No. | Description |
| 1 | Unmarked crypt |
| 2 | Mary Franklin crypt |
| 3 | Unmarked crypt |
| 4 | MEB headstone |
| 5 | James H. Whealton |
| 6 | JHW sm headstone (footstone of #5?) |
| 7 | Eldridge Milbroune |
| 8 | Alice G. Milbroune |
| 9 | TC tombstone (concrete) |
| 10 | large tombstone base - tombstone missing |
| 11 | 4 "E" site markers (4.5' x 7') |
| 12 | ALW footstone (concrete) |
| 13 | Grace Johnson crypt |
| 14 | Emma Deloatch crypt |
| 15 | Sadie B. Hall crypt |
| 16 | Pauline Brenney crypt |
| 17 | unmarked crypt |
| 18 | Dorothy F. O'Connor crypt |
| 19 | Mary Brinney crypt |
| 20 | Alfred Brenney crypt |
| 21 | Anna Hardy crypt |
| 22 | sunken gravesite |
| 23 | sunken gravesite |
| 24 | Arimthea? Whea.(prob. assoc'd w/ #12) |
| 25 | unmarked crypt (probably assoc'd w/ #10) |
| 26 | Mary E. Whealton |
| 27 | small corner marker |