Tracks in the Sand – June 1890
<![if !supportEmptyParas]> <![endif]>
Peninsula Enterprise.
ACCOMAC COURT-HOUSE, VA
Chincoteague.
June 21, 1890.
¥ Mr. Wm. Conant, the contractor, has completed club house on WallopÕs Beach.
¥ Six ice cream saloons help to supply the wants of the inner man, in our town at present.
¥ Capt. John Bunting has opened his fish factory and his boats come in loaded daily. (1)
¥ Another handsome storehouse has been completed here for the occupancy of Lynch & Son, of Maryland.
¥ A census of our oyster and fish industries is being taken by Capt. R. R. Stant, under orders from the U. S. government.
¥ The contract for fixing roof on WallopÕs Island Life Station has been awarded to Mr. Robert Nock, of Assawoman, at a price of $63.
¥ The mud-digger used in opening up the canal between Chincoteague and Delaware bays was towed by a tugboat to New York for repairs last week. About 1 1/2 miles of the canal has been cut by the digger.
¥ Mr. Geo. R. Coleburn [sic] has purchased a handsome dwelling in our town, and now that the cage has been prepared, has, it is said, a fair prospect of securing a handsome bird for same from upper part of the Island. (2)
¥ Our round potato crop is being rapidly forwarded to market. The yield to acreage planted will be very large, and the potatoes are of such superior quality that they sell readily for 25 to 50 cents per barrel more than any others in market. (3)
¥ Arrivals at Atlantic this week: J.A. Elligood, Phila.; M.F. Lamb, Dover; Del. Geo. W. Nealy, M.E. Selby, Wilmington; Jas. H. McGlouther, Georgetown, Del.; Del. M.J. Byrd, Baltimore; Thos. Campbell, North Carolina; John Ayres, Girdletree; R.R. Stant, Capt. Samuel Davis, Thomas C. Kellam, George W, Brown, E.C. Collins, E.E. Bunting, F.E. Jones, E.F. Messick, John Porter, Avery Donovan, Accomac.
----------------------
The news for Chincoteague this month comes from only a single issue of the Enterprise.
<![if !supportEmptyParas]> <![endif]>
PEOPLE:
<![if !vml]>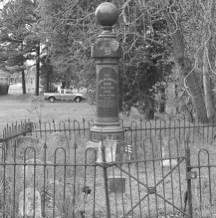 <![endif]>1. Capt. John W. Bunting (Apr 5, 1836 – Mar 12, 1907, incorrectly listed as 1905 in some sources) married Susan E. Jester (Oct 16-1840 – Jun 21, 1908), the daughter of Kendall and Elizabeth Jester. They had six children, Kendall J. (b ca 1861), who married Mary Ann Jones, John H. (1868 – 1878), William C. (1865 – 1935), who married Hattie Mumford and later Mary Williams, Elizabeth (1867 – 1871), George W. (died as infant 1870), and Elizabeth A. (died as infant 1871). Capt. Bunting came to the Island as an orphan at age 12 (possibly from Staunton, VA) and by the time he died was one of the richest men on the Island,. He made his fortune as a store owner, oysterman, and owner of a large fish factory on the southern part of the Island. BuntingÕs